August 22, 2023
Why Are Wasps So Annoying At The End Of The Summer?
If you thought yellow jackets, wasps, and other stinging insects were annoying over the summer, you haven't seen anything yet. In fact, as late summer approaches these stinging insects will only get more annoying and potentially more aggressive as they get a little too close for comfort. In this post, we'll explain why homeowners in Kansas City, Omaha, and Des Moines as well across the Midwest are seeing stinging insects coming in and out of vents, buzzing about their yards in large numbers, and even trying to pilfer food and drink from barbecues.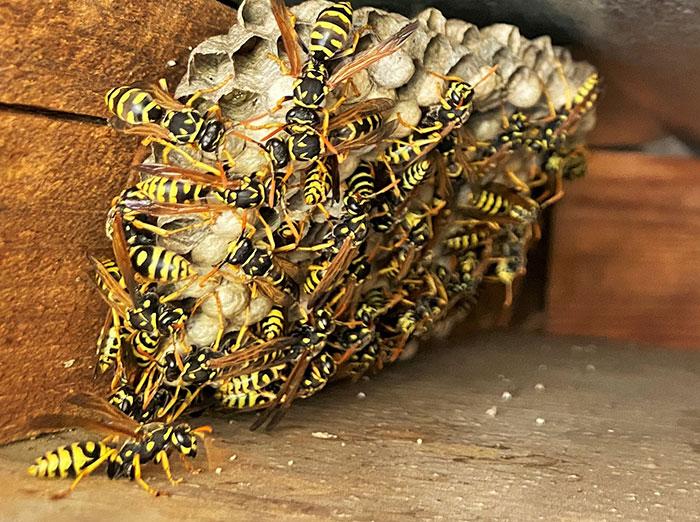 Why wasps and other stinging insects become more of a problem in late summer and early fall
Yellow jackets, paper wasps, and hornets become active every spring once the weather warms up and focus their efforts on establishing nests and reproducing. By the time late August arrives, the same stinging insects that you might have noticed over the summer but didn't really have a problem with (accidental encounters being the exception) are likely to become more active and aggressive. Below are a few reasons why this change in behavior occurs.
Colony growth
By the time late summer hits, stinging insect nests have typically reached their peak size and the population explosion means more stinging insects competing for food, space, and other resources. Since there are more stinging insects present on your property during this time, the chances of encountering them increases.
Food scarcity
As summer progresses, natural food sources like insects and nectar become scarcer. This often causes wasps and other stinging pests to search for alternative food sources, including our food and even food waste. This when they become more noticeable at barbecues and other outdoor events as well as around trash cans.
Dietary changes
While the larvae must consume lot of protein to develop, adults feed on nectar and other natural sugar sources for most of the season. In late summer, the need for protein is swapped for a need for carbohydrates. Since, as we mentioned in the previous paragraph, their natural food sources start running out, yellow jackets, wasps, and other stinging insects must look for new food sources, which happen to be sugary drinks, soda, ripe fruit, and other staples of a common get together.
Where do yellow jackets & other stinging insects build nests?
Where stinging insects build nests really depends on the species. Let's breakdown nesting sites by species.
Yellow jackets
Many yellow jackets build their nests underground in already established holes, abandoned rodent burrows, and even in loose soil that they don't have to work as hard to excavate. Trees and shrubs are ideal nesting sites for yellow jacket species that construct aerial nests. Finally, yellow jackets also establish nests behind siding, as well as in wall voids, attics, and other enclosed spaces.
Paper wasps
Paper wasps are notorious for building their nests under eaves, roof overhangs, under decks, and other sheltered sites on homes and structures. Behind siding, in attics and chimneys are other potential nesting locations for this type of wasp. They also construct nests hanging from tree branches and on shrubs.
Hornets
Although it really depends on the species, many hornets create nests that hang from tree limbs, utility poles, and outbuildings. They also nest inside in the eaves or rafters as well as other parts of homes and buildings.
Why you shouldn't disturb a stinging insect nest
The wasps we've highlighted above have a few things in common and that is:
They are aggressive by nature and made more so by perceived threats
They're capable of stinging multiple times
Stings can be painful, but could also trigger mild allergies to life-threatening symptoms
Stinging insect prevention tips
To be honest, it's rather difficult to stop wasps and other stinging insects from hanging out on your property. You can make your property less appealing though. Try implementing these prevention tips:
Pick up rotten fruit that has dropped from trees
Harvest ripe fruit before they fall to the ground
Keep your outdoor trash cans covered and replace receptacles that are cracked or broken
Shut entry doors and garage doors when not in use
Make sure screens on windows and doors are free of rips and tears
Seal cracks, gaps, and openings these pests could use to get inside
Cover food and drink when eating outside
Pick up crumbs, spills, and food waste during and after outdoor events
What to do if wasps or other stinging insects are a problem
If you discover a wasp nest too close or even attached to your home or you're worried about your family being stung by stinging insects that are buzzing about in your yard, contact Miller Pest & Termite for help! Our locally owned and family-operated pest control company offers stinging insect control in Missouri, Iowa, Kansas, and Nebraska, and are ready to help property owners protect their homes and families!
In addition to our stinging insect control, we offer home pest control services that include wasp nest removal up to 25 feet and protection from other house-infesting insects and rodents all year long. Compare plans and pricing below or simply give us a shout!
Starting at:
$4999
A Month
Service Every Other Month
29 Pests & Services Covered
Initial Premium Interior Application
100% Satisfaction Guarantee
10% Off Bed Bug & Bat Bug Services
Seasonal Mosquito Control
Bundle & Save
GuardPlus
Starting at:
$6999
A Month
Learn More

Service Every Other Month
33 Pests & Services Covered
Initial Premium Interior Application
100% Satisfaction Guarantee
10% Off Bed Bug & Bat Bug Services
Seasonal Mosquito Control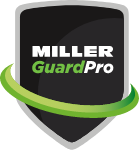 GuardPro
Starting at:
$8999
A Month
Service Every Other Month
35 Pests & Services Covered
Initial Premium Interior Application
100% Satisfaction Guarantee
15% Off Bed Bug & Bat Bug Services
Seasonal Mosquito Control
Get Help Now!
Request Your Free Quote