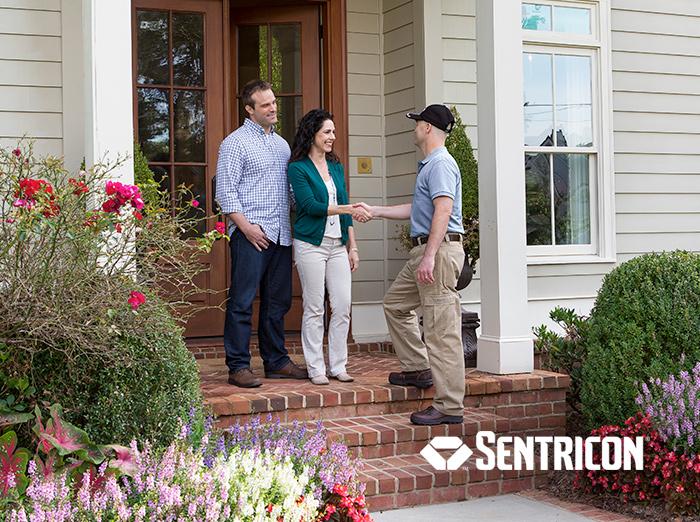 Effective Termite Control For Midwest Property Owners
It's easy to become overwhelmed when battling termites. What extermination method should you go with and how soon should you call for backup? We say as soon as possible, or better yet, before these destructive pests have a chance to infest your structure. Here at Miller Pest & Termite, we offer comprehensive termite inspections followed by the best and most effective treatment for termites available today. If you're ready to protect your home from termites and the damage they cause, contact Miller for effective termite control in Des Moines, Kansas City, and Omaha as well as throughout our Midwest service area!
How Our Termite Treatments Work
How Our Local Pest Pros Exterminate Termites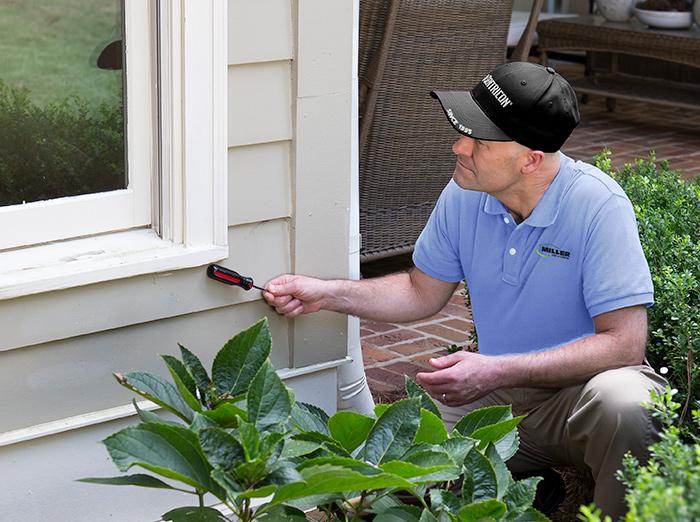 Termite Inspection
When reach out to Miller Pest & Termite for help getting rid of termites, we'll send out a highly trained and fully licensed pest control specialist to complete a detailed termite inspection of your property to identify:
Active termite infestations
Termite damage
Conducive condition
Possible entry points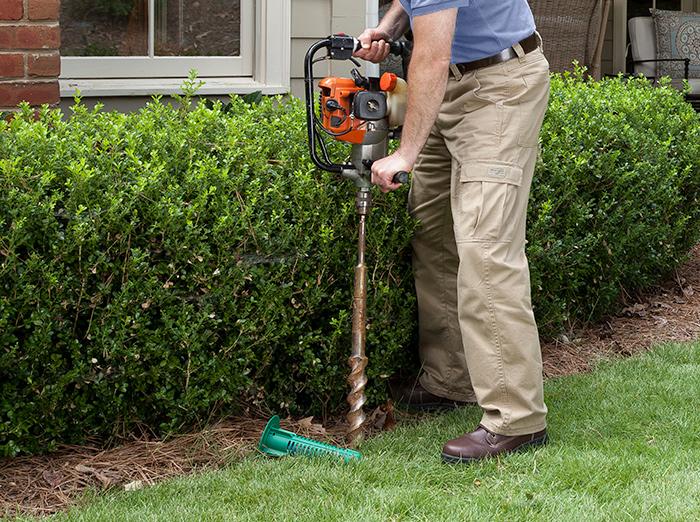 Termite Treatment
After the inspection, your termite exterminator will install the Sentricon® System around the perimeter of your structure in order to create an "invisible" barrier that stops wood-destroying termites from reaching your home.
What's more, this termite baiting and monitoring solution doesn't only eradicate termites foraging on your property, it wipes out the entire termite colony below ground when workers carry the bait back on their bodies. Once exposed, termites don't stand a chance - even the queen!
Once your Sentricon® bait stations are installed, we'll send an exterminator out once a year to inspect your stations to ensure they're working properly.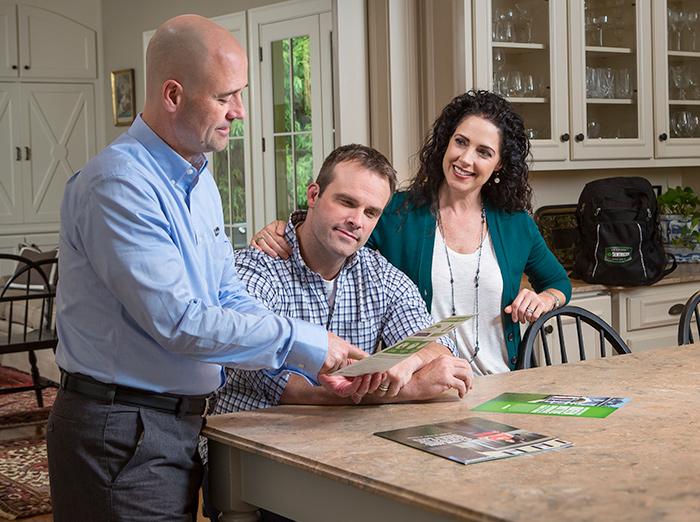 Our Termite Warranty
At Miller Pest & Termite, our termite control services are under warranty and performed by experienced pest control specialists who are certified, bonded, insured, and more than qualified to exterminate termites. In fact, every termite treatment we perform includes a termite re-treatment warranty. At any point during the warranty period, if you termites return, so do we- at no cost to you!


Get A Quoteor call (515) 518-8864
Ongoing Home Pest & Termite Control Recommendation
Miller

GuardPlus

This program includes everything from the Miller Guard - PLUS termite control and solutions targeting ground squirrels and voles. When you choose this service, Miller will install Sentricon® bait stations around the perimeter of your home to keep wood-destroying termites away.
Service Every Other Month*
33 Pests & Services Covered
Initial Premium Interior Application
Exterior Applications
Insect & Rodent Control
Year-Round Protection
100% Satisfaction Guarantee
Termite Control
Ground Squirrels & Voles
10% Off Bed Bug & Bat Bug Services
Starting at:
$6999A Month
Free Quote Or Call (515) 518-8864
Additional Miller GuardPlus Details
Pests Covered: Asian Beetles, Boxelder Bugs, Carpenter Ants, Carpet Beetles, Centipedes, Earwigs, Fleas, Fruit Flies, Grain Beetles, Hornets, House Ants, Indian Meal Moths, Mice, Millipedes, Pill Bugs, Rats, Roaches**, Silverfish, Spiders***, Stink Bugs, Wasps, Weevils, Yellow Jackets PLUS Termites, Ground Squirrels & Voles
Pricing does not include initial fee
2-year service commitment
Must have credit card on file
*Not including Jan/Feb
**American, German & Oriental
*** Venomous & Non-venomous
How The Sentricon® System Works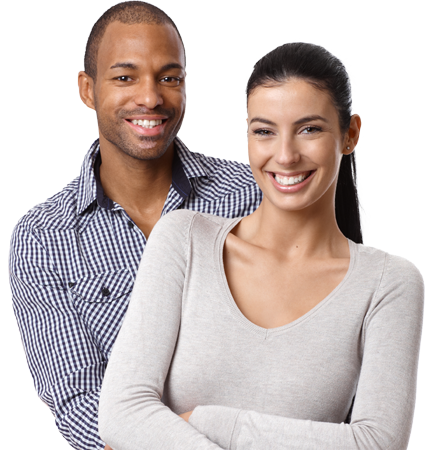 Dean King came to our house and did an awesome job. He was very knowledgeable and thorough in all of his inspection and treatment. Service was prompt and very professional.
Dane K. - Des Moines
Frequently Asked Questions
Termite Control FAQs
What are the signs of termites and termite damage?
Depending on where you live and current conditions, they may be attracted to or already nesting in your home. Signs of termites to keep an eye out for includes:
A large number of swarmers (winged termites) found in your home
Mud tubes on the foundation, by doors, and windows
Small holes in drywall or wood
Wood that crumbles easily because of apparent damage
Sagging floors, soft spots on walls, and cracked plaster
Many times, termites may be difficult to find until it's too late. Have one of our trained exterminators inspect your home to locate hidden problems you may not be aware of.
In the Midwest, termites typically swarm in April, May, or June. That doesn't mean these pests aren't active all year long. Unless you live in Alaska, your home is at risk for termite activity no matter the season.
How does the bait in Sentricon eliminate termite colonies and how long does it take to work?
The bait attracts termites and acts as an alternative source of nutrition for them. The scavenging termites will then take the bait back to their colonies and feed it to the rest of the colony. The formula in the bait stops their ability to molt, which in turn eliminates the entire colony.
It will take a few weeks for them to find and distribute the bait from the stations. Then, elimination of the colony depends on a few varying factors and could take anywhere from 4 weeks to 3 months to fully eliminate the entire colony.
What if my neighbors have termites and install Sentricon, is my home protected?
If your neighbors have reported termites in the area, your home may be at risk. Since termite colonies are located underground, it's impossible for you to detect one before it's too late. Professional, preventative termite treatments are the best way for your home to stay termite-free.
Your neighbor's Sentricon® will not help eliminate the colonies around your home either as the system can only eliminate colonies where it is installed. It is entirely possible that there are many colonies foraging in your neighborhood that could infest your home.
When termites have been eliminated, do I need to keep the Sentricon system?
Yes, the Sentricon® system stays in the ground in order to protect your home against any future infestations.
Does Sentricon attract termites to my home?
No, Sentricon® will not attract them to your home. These stations act as an alternative source of food for termites, so if there are any in your area they will find the bait station, bring it back to their colonies and their colonies will be eliminated.
Is it okay for my kids and pets to play near the stations and what happens if my pet eats one?
Yes, the Sentricon bait stations are family and pet-friendly.
The quantity of active ingredient in each bait station is so small that your pet would need to ingest approximately 200 of the bait station inserts — which is simply impossible — before becoming sick.
Get Help Now!
Request Your Free Quote