What do acrobat ants look like?
Size: 1/16 -1/8 in.
Color: Light brown to black
Body Structure: Head, two spines on the thorax, and heart-shaped abdomen when viewed from above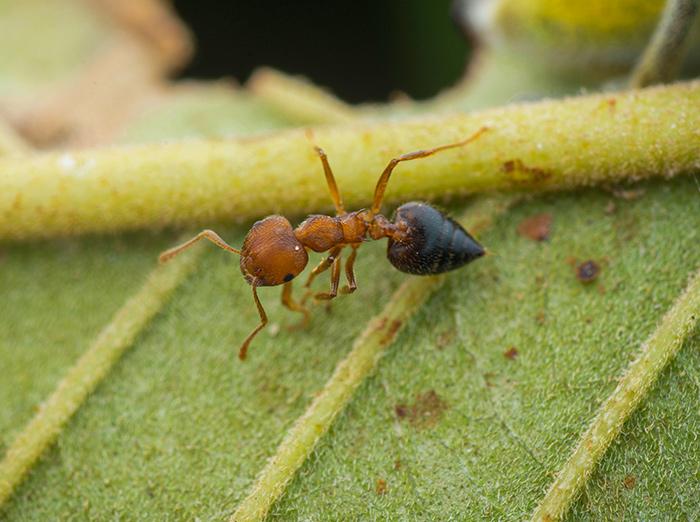 Characteristics of acrobat ants
When disturbed, acrobat ants will raise their abdomens over their head and thoraxes in a threatening manner. Likewise, worker ants will emit a foul odor and may bite when disturbed.
When are acrobat ants most active?
Very Active
Active
Not Active
How are acrobat ant colonies formed?
Colonies are formed by flying ants, or "swarmers," anytime from May to September.
Where do acrobat ants nest?
Acrobat ants nest in moist, damp areas, from rotting logs to tree stumps. Often, acrobat ants will nest indoors wherever damp, damaged wood is present. They also may nest in Styrofoam insulation, wall voids, or in the abandoned nests of termites or other wood-boring insects.
What do acrobat ants eat?
In the wild, acrobat ants feed on other insects and honeydew. Indoors, they seek out sugary, sweet food items.
Are acrobat ants dangerous?
Although acrobat ants are capable of biting, they do not spread disease and are not considered a threat to health or property.
Why do I have an acrobat ant infestation?
The presence of acrobat ants may indicate a larger moisture problem in your home.
How do I get rid of acrobat ants?
In order to eliminate acrobat ants, the nest must be located and treated. Tracking acrobat ants' trail back to the nest often is difficult and so identification and treatment is best left to pest control specialists.
At Miller Pest & Termite, we offer effective pest control services that include accurate identification of the ant and treatment that exterminates acrobat ants completely. Reach out today to find out how our local pest control team can help you get rid of acrobat ants!
Ongoing Home Pest Control Recommendation
Miller

Guard

Our signature Miller Guard pest control plan is designed to eliminate and prevent insect and rodent problems by targeting pest entry and exit points for maximum effectiveness. It includes an initial premium interior application, exterior applications, web removal, and wasp nest removal.
Service Every Other Month*
29 Pests & Services Covered
Initial Premium Interior Application
Exterior Applications
Insect & Rodent Control
Year-Round Protection
100% Satisfaction Guarantee
Starting at:
$4999A Month
Free Quote Or Call (515) 518-8864
Additional Miller Guard Details
Pests Covered: Asian Beetles, Boxelder Bugs, Carpenter Ants, Carpet Beetles, Centipedes, Earwigs, Fleas, Fruit Flies, Grain Beetles, Hornets, House Ants, Indian Meal Moths, Mice, Millipedes, Pill Bugs, Rats, Roaches**, Silverfish, Spiders***, Stink Bugs, Wasps, Weevils, Yellow Jackets
Pricing does not include initial fee
1-year service commitment
Must have credit card on file
*Not including Jan/Feb
**American, German & Oriental
*** Venomous & Non-venomous
How can I prevent an acrobat ant problem?
Since acrobat ants enter homes by crawling along pipes and electrical wiring and using other openings on the exterior of the structure, it is necessary to caulk or seal off all potential entry points – from the smallest crack to the gap around a door frame to larger holes.
Homeowners should also keep the kitchen, dining room, and other areas where food is prepped or consumed free and clear of crumbs, spills, and other food debris.
Get Help Now!
Request Your Free Quote