What do silverfish look like?
Size: 3/4 in.
Color: Metallic silver to brown
Body Structure: Elongated, flat body covered with scales, six legs, wingless, two long antennae, posterior has three long appendages with bristles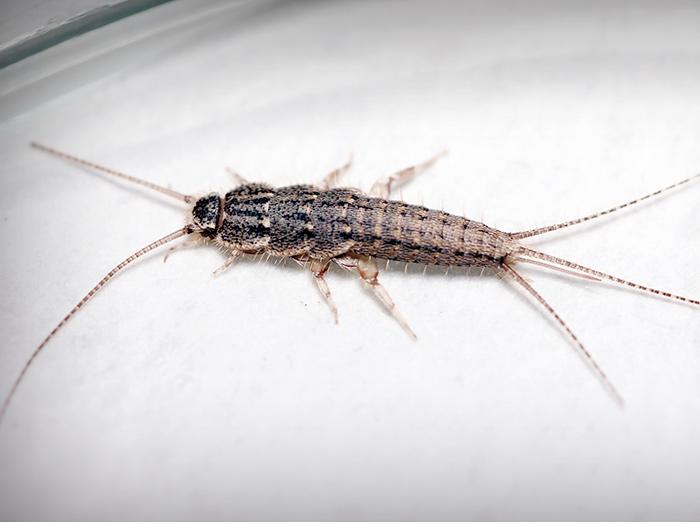 Characteristics of silverfish
Silverfish females typically lay one to three eggs per day, placing them in cracks, under objects or left exposed. Developmental time is three to four months under favorable conditions of 72-90 degrees Fahrenheit and at least 50-75 percent relative humidity. Otherwise, it may require up to two to three years. The majority of silverfish live up to three years.
When are silverfish most active?
Very Active
Active
Not Active
Where can you find silverfish?
Outdoors, silverfish often live under bark, leaf litter, and rocks.
Indoors, silverfish are usually found in rooms with moisture or humidity, including attics, bathrooms, laundry rooms, and basements but they doesn't mean you won't see them in other parts of your home.
What do silverfish eat?
Silverfish feed on paper, glue, fabrics, and pantry staples such as flour and rolled oats. They also eat dead or injured silverfish.
Are silverfish dangerous?
Silverfish are pests primarily because they are a nuisance and an annoyance. They consume food, fabric, and paper, and may cause staining. They can be damaging, but usually that only occurs when there's a large infestation present and over a long period of time.
Why do I have a silverfish infestation?
Silverfish thrive in humid conditions, which means if you have areas in your home with moisture issues and/or high humidity, you could attract these nuisance pests. Accumulation of old newspapers, cardboard, and other items silverfish feed on could also draw them in. Finally, they can only get in if there's a way to do so; any crack, gap, or opening on the exterior should be considered a potential entry point.
How do I get rid of silverfish?
If you're dealing with an infestation of silverfish, contact Miller Pest & Termite for help. Our local pest control pros offer effective pest control services in the Midwest that not only eliminate silverfish and other pests, but also stop new pest activity from developing. Reach out today to find out how we can help you get rid of silverfish.
How can I prevent a silverfish problem?
To prevent a silverfish problem from developing in your home, our exterminators recommend implementing the following pest prevention tips:
Use a dehumidifier
Correct moisture issues
Replace water-damaged wood
Fix leaky pipes and other plumbing issues
Seal potential entry points
Install weather stripping
Organize storage areas
Keep old books, newspapers, and other paper products in areas where silverfish are likely to show up
Get Help Now!
Request Your Free Quote