What do little black ants look like?
Size: 1/16 in.
Color: Shiny black
Body Structure: Head, thorax, and abdomen with two nodes on the pedicel connecting the thorax and abdomen.
Characteristics of little black ants
Little black ants live in moderate to large colonies that feature multiple queens.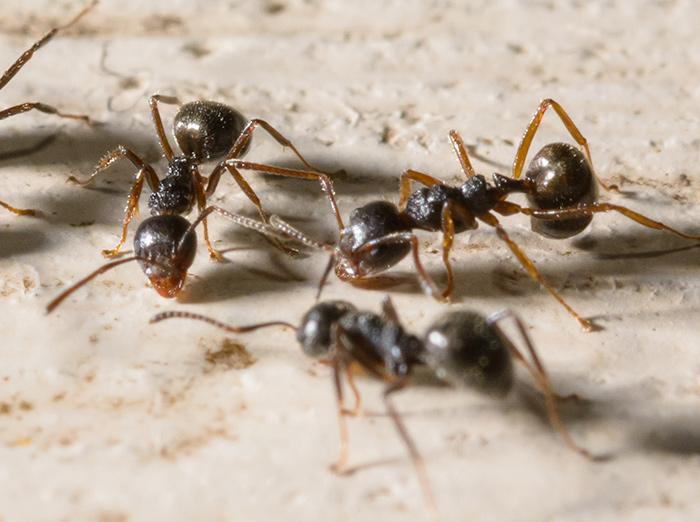 When are little black ants commonly active?
How are little black ant colonies formed?
New little black ant colonies are formed when winged adults mate – anywhere from spring through mid-July.
Where do little black ants nest?
Little black ants prefer to nest in moist areas. Outdoors, their nests are commonly found beneath lumber, in mulch, in rotting logs, or beneath debris in yards. Indoors they nest in wall voids, spaces beneath carpeting, behind bricks, and other spots around sources of heat and moisture.
What do little black ants eat?
Little black ants feed on honeydew, pollen, and dead or living insects outdoors. Inside homes and structures, they consume crumbs and food remains in kitchens, pantries, and other areas where food is stored or prepped. They prefer grease, meat, fruits and vegetables, and sweets.
Are little black ants dangerous?
Although little black ants are equipped with stingers, they are too small to have any real effect. They are considered nuisance pests when they infest structures.
Why do I have a little black ant infestation?
Little black ants are drawn indoors when food sources outside are running low, but may also enter through cracks and gaps on the exterior of a house when out foraging.
How do I get rid of little black ants?
In order to get rid of little black ants, it is imperative that you locate and treat the nest, not just the ants crawling in the kitchen or along your foundation walls or sidewalks. For optimal results, you should contact a pest control company for help.
At Miller Pest & Termite, we offer pest control services that exterminate little black ants and other pests that infest homes and businesses.
Ongoing Home Pest Control Recommendation
Miller

Guard

Our signature Miller Guard pest control plan is designed to eliminate and prevent insect and rodent problems by targeting pest entry and exit points for maximum effectiveness. It includes an initial premium interior application, exterior applications, web removal, and wasp nest removal.
Service Every Other Month*
29 Pests & Services Covered
Initial Premium Interior Application
Exterior Applications
Insect & Rodent Control
Year-Round Protection
100% Satisfaction Guarantee
Starting at:
$4999A Month
Free Quote Or Call (515) 518-8864
Additional Miller Guard Details
Pests Covered: Asian Beetles, Boxelder Bugs, Carpenter Ants, Carpet Beetles, Centipedes, Earwigs, Fleas, Fruit Flies, Grain Beetles, Hornets, House Ants, Indian Meal Moths, Mice, Millipedes, Pill Bugs, Rats, Roaches**, Silverfish, Spiders***, Stink Bugs, Wasps, Weevils, Yellow Jackets
Pricing does not include initial fee
1-year service commitment
Must have credit card on file
*Not including Jan/Feb
**American, German & Oriental
*** Venomous & Non-venomous
How can I prevent a little black ant problem?
To prevent little black ants from infesting your property, our pest control specialists recommend:
Filling all cracks around the house
Eliminating moisture problems
Cleaning up food spills right away
Emptying trash can regularly
Washing dishes after every meal
Storing food in containers with tight-fitting lids
Clearing debris in the yard
Trimming back tree branches as well as shrubs and bushes so that they do not touch the exterior of the house
Cleaning gutters regularly so water runs freely through the channel
Pointing downspouts away from the foundation to prevent pooling
Repairing or replacing leaking appliances
Fixing plumbing issues
Replacing water-damaged wood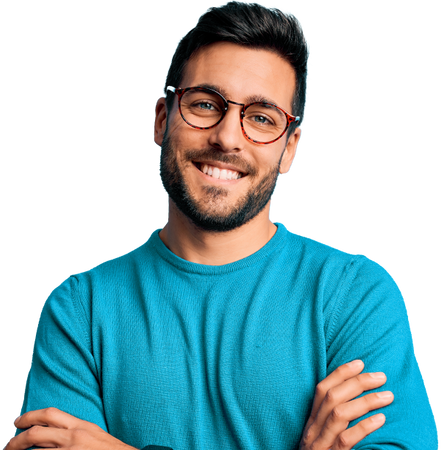 Scott and Kent came out to access a rodent issue in my back yard. They very knowledgeable about the type of rodent and how to get rid of the problem. They were also very very professional and the customer service was the best I've seen in a very long time. I definitely will recommend them hands down! What an excellent job! Keep up the good work you two!!
Mike L. - Kansas City
Get Help Now!
Request Your Free Quote