November 19, 2023
A Guide To Bed Bugs & Holiday Travel
The holiday season is a time for joy, laughter, and creating long-lasting memories with those whom you love. However, there's an unwelcome guest that can quickly turn the festive spirit into a nightmare: bed bugs. Throughout the year, these biting pests often hitch rides on unsuspecting travelers, and the holiday season is no exception. Rather than face the discomfort of bed bugs or having to deal with potential bed bug infestations, take a few moments to read this article. In it, we'll explore where travelers are likely to encounter bed bugs, how to safeguard against them, and what to do if you suspect you've brought them home in your luggage or on your person.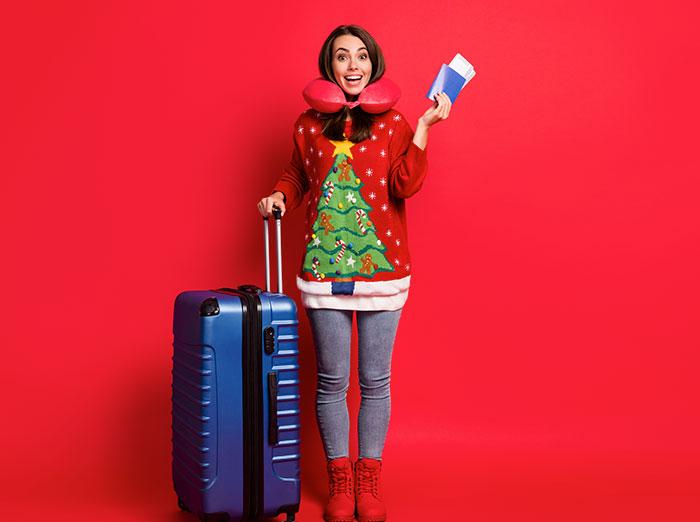 The most common places to get bed bugs while traveling
As we touched on above, bed bugs are notorious for their ability to hitchhike on luggage, clothing, and personal belongings. While no place is entirely immune, certain environments are more prone to bed bug infestations. Here are common areas where travelers might encounter these pests:
Hotels and other accommodations
Bed bugs are notorious for infesting resorts, hotels, motels, and other lodging establishments. Once introduced, they often hide in mattresses, bed frames, headboards, and even furniture, waiting for the next blood meal to arrive. Always inspect your accommodation upon arrival.
Public transportation
Buses, trains, planes, and other modes of commercial transportation are communal spaces where bed bugs can easily transfer from one passenger to another. Be cautious when using public transportation. You should also avoid placing personal items directly on seats.
Luggage storage areas
Whether it's the overhead compartment on a plane, in the storage area on a bus, or in the trunk of your hired vehicle, these spaces are potential hiding spots for bed bugs. Use luggage covers and keep your bags elevated when possible.
Common areas
Bed bugs often lurk in common areas such as airports, train stations, waiting rooms, lounges, and lobbies. In fact, anywhere people congregate in large numbers has the potential for a bed bug encounter, especially when traveling. Be vigilant and avoid placing your belongings on upholstered furniture.
Safeguarding your family and belongings against bed bugs
Preventing bed bugs during your holiday travels involves a combination of awareness and proactive measures. Here are some tips to prevent getting up close and personal with bed bugs over the holidays and any time you travel.
Use hard-cased luggage and consider luggage covers
In order to make it harder for bed bugs to infest your suitcases, consider investing in hard-cased luggage. It's more challenging for these pests to attach to the hard shell than to grab onto fabric. You should also consider purchasing luggage covers as an added extra layer of protection.
Inspect your accommodation
Upon arriving at your hotel or lodging, take a few minutes to inspect the room. Check mattress seams, headboards, and furniture for any signs of bed bugs, such as small reddish-brown bugs, tiny white eggs, or dark fecal spots.
Keep your luggage off the ground
Avoid placing your luggage directly on the floor or bed. Use luggage racks or other elevated surfaces to keep your belongings off the ground (after you've inspected them for bed bugs, of course). We also recommend working out of your suitcase instead of using the drawers provided.
Keep personal items secure
When using public transportation, keep personal items secure and avoid placing bags on communal seating surfaces. Consider using a backpack or bag with zippers to minimize entry points for bed bugs.
What to do if you think you brought bed bugs home
Despite your best efforts, it's still possible to encounter bed bugs during your travels. If you suspect you've brought them home, take immediate action:
Isolate infested items
If you notice signs of bed bugs on your luggage or belongings, isolate the infested items. Place them in sealed plastic bags to prevent the bugs from spreading and do not leave them inside your home.
Wash and dry clothing
Wash your clothes in hot water and dry them on the highest heat setting the fabric will permit. This can help eliminate any bed bugs or eggs that may be hiding in your clothing.
Vacuum and clean
Thoroughly vacuum your luggage, paying close attention to seams, pockets, and folds. Dispose of the vacuum bag in a sealed trash bag immediately. Do not leave the bag in your house.
Contact a bed bug control specialist ASAP
If you suspect a bed bug infestation in your home, reach out to a pest control company that specializes in bed bug treatments right away! Bed bugs are extremely hard to eliminate without professional remediation.
Contact Miller Pest & Termite For Bed Bug Control
While the thought of bed bugs may be unsettling, taking proactive measures and staying vigilant during your holiday travels can significantly reduce the risk of encountering these pests.
However, if you suspect you brought bed bugs home, contact Miller Pest & Termite for bed bug control. Offering effective treatments for bed bugs in Des Moines, Kansas City, and Omaha as well as throughout our multi-state service area, our local pest control team is ready to help you get rid of bed bugs – completely!
Get Help Now!
Request Your Free Quote