Bed bugs are unwelcome pests that can quickly turn a peaceful night's sleep into something that resembles more of a nightmare. These tiny, blood-feeding insects are known for their ability to hide in cracks and crevices, making them difficult to detect. However, being vigilant and knowing the signs of a bed bug infestation can help you catch the problem early, and take steps to eliminate it. In this article, the Miller Pest & Termite team will identify the common signs of bed bugs and guide you on how to check for bed bugs at home, in a hotel room, or anywhere else you may find yourself.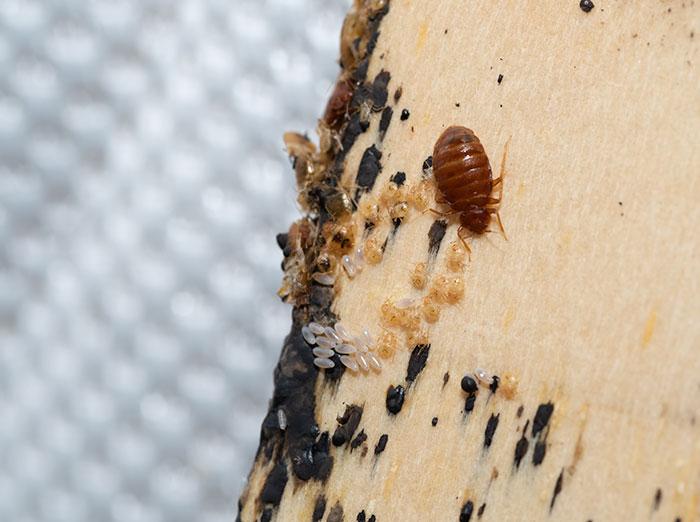 Signs of bed bugs
Bed bug bites
For obvious reasons, bed bugs are one of the most common signs of a bed bug problem. They often appear in a line or cluster on the face, neck, arms, legs, and other exposed skin. And while not everyone reacts to bed bug bites, many people develop red, itchy welts.
Adult bed bugs & nymphs
Another clear indication is finding reddish-brown bugs. Adult bed bugs are about the size of an apple seed, and nymphs are similar in appearance, only smaller and more whitish yellow. Both are often found on mattresses, box springs, headboards, and other furniture in an infested space. Bed bugs are mostly active at night and hide during the day, but in the case of severe infestations, you may see them anytime of day.
Bed bug eggs
Bed bug eggs are tiny, measuring about 1 mm in size. They are usually translucent or pearly white. These eggs are typically found in clusters and are often attached to surfaces near the bugs' hiding spots.
Dark brown or reddish stains
Bed bugs leave behind fecal stains that appear as small, dark brown or reddish spots on bedding, mattresses, furniture, and walls. These stains are a result of the digested blood they excrete.
Shed skins
As they develop, bed bugs shed their exoskeletons. These discarded skins are light brown and can be found near their hiding places.
Musty odor
When an infestation of bed bugs is large, there may be an accompanying odor that is often described as musty and sweet.
How to find bed bugs
If you're worried about a bed bug infestation, or you simply want to make sure that bed bugs aren't infesting your hotel or other accommodations while away, follow these steps to check for bed bugs:
Check the mattress and box spring
Begin by pulling back the bedding, including sheets, pillowcases, and mattress covers so that you can see the bare mattress. Examine these items for signs of bed bugs, paying close attention to piping, seams, and tags.
Check the bedding
As you put the bed back in order, be sure to check the sheets, cover, and other bedding for stains, live bugs, and other signs of bed bugs.
Examine the furniture
Carefully inspect the headboard, bedframe, and night stands as well as nearby furniture, including upholstered furniture. Be thorough in your search for bed bugs, as these pests can hide in cracks and crevices.
Inspect curtains, wall hangings & outlets
Check curtains, any wall hangings, and electrical outlets. Bed bugs can squeeze into tiny spaces, so don't overlook any potential hiding spots.
Look in luggage and clothing
After traveling, inspect your luggage, bags, and clothing for bed bugs. We highly recommend taking care of this bed bug inspection outside or in the garage where it will be hard for bed bugs to infest.
Don't forget to use a flashlight when looking for bed bugs
As we've already mentioned, bed bugs are small and can be hard to spot with the naked eye. That's why we recommend using your smartphone's flashlight when inspecting for bed bug activity.
What to do if you find signs of bed bugs or strongly suspect an infestation
If you've identified bed bugs in your home, the best way to get rid of these pests is to contact a pest control company without delay. Left untreated, your bed bug infestation will not go away, and will in fact, grow. Worse, it might spread to other parts of your home or even to a neighboring unit.
No signs of bed bugs, but I have bites
If you've woken up with itchy bites but have not been able to find a bug or any other sign of bed bug activity, that doesn't mean you weren't exposed to these biting pests somewhere along the way. According to the CDC, bed bug bite marks don't always show up right away. In fact, it can take one to several days after the initial bite. That means if you traveled last week and stayed over in a hotel, it's entirely possible that you were bit while you were gone. If you've found bites and are worried about bed bugs, contact Miller Pest & Termite for accurate identification and bed bug extermination.
Effective bed bug control in Des Moines, Kansas City & the Midwest
To completely get rid of bed bugs, the best thing you can do is call Miller Pest & Termite! Offering bed bug control in Des Moines, Kansas City, and Omaha, as well as throughout our multi-state service area that includes:
A comprehensive bed bug inspection
Effective bed bug treatment that targets adult bed bugs, nymphs, and bed bug eggs
Installation of bed bug monitors
A 30-day follow up service to make sure bed bugs are completely gone
In addition to the bed bug removal process outlined above, Miller issues qualifying properties a 90-day bed bug warranty; that means if bed bugs return within 90 days of your initial service, we'll return to take care of them, at no extra cost!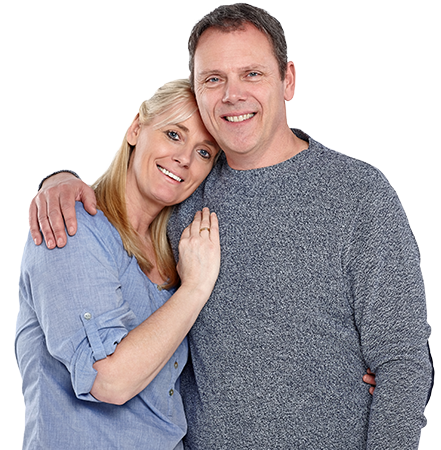 Miller is contracted to inspect and treat our home and rental properties. All properties are in a rural area. Our insect and rodent issues have been taken care of and managed well! Chandler was our latest technician, he was on time, efficient, respectful, and did a great job!
Heather D. - Des Moines
Get Help Now!
Request Your Free Quote