June 1, 2023
Are You Seeing Spiders In Your Des Moines Bathroom?
Spiders are fascinating creatures that play an essential role in our ecosystem, but encountering them in unexpected places, such as the bathroom, can be a startling experience. In this blog post, we'll explore the types of spiders that could infest bathrooms in Des Moines and throughout the region as well as delve into the reasons behind their presence and provide prevention tips to help you keep arachnids out!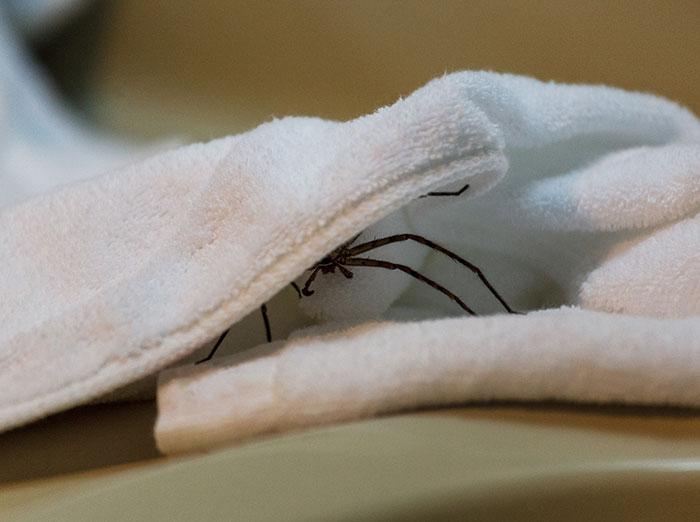 What types of spiders infest bathrooms in Des Moines & the Midwest?
All spiders need water to survive and what better place to find it then in a bathroom. Between faucets, tubs, and sinks as well and high moisture content, bathrooms are a great place to hang out and a lot of spiders do. That said, the most likely culprit is the common house spider.
Why spiders infest bathrooms
We already touched on one thing that attracts spiders to bathrooms, and that is moisture. Dripping faucets, leaky pipes, and excessive humidity can create an ideal habitat for these eight-legged pests. Of course, water and moisture aren't the only thing that attracts spiders to bathrooms. Here are a couple more reasons for spider infestations in bathrooms:
There are other insects to catch & eat
Just like they need water for survival, spiders need to eat. And it just so happens, that several insects they prey upon also like bathrooms, including ants, silverfish, centipedes, and roaches.
There's plenty of hiding spots
Bathrooms provide spiders with plenty of spots where they can weave their webs and live relatively undisturbed.
Easy access to the bathroom
Cracks, gaps, and openings around windows, doors, or plumbing fixtures make it easier for spiders to enter.
How to prevent spiders from infesting your bathroom
Now that we understand why house spiders infest bathrooms, let's talk about some effective prevention tips to keep these nuisance pests out of the bathroom.
Seal all entry points
Inspect and seal any cracks or gaps around windows, doors, vents, and plumbing fixtures using caulk or weatherstripping to prevent spiders from entering.
Reduce moisture
Fix any leaks, ensure proper ventilation, and use dehumidifiers to reduce excess moisture in your bathroom. Spiders are less likely to stay in a dry environment.
Keep the bathroom clean
Regularly clean your bathroom, pick up wet towels and dirty clothes, sweep away cobwebs, and remove clutter from the cabinets and vanity. You should also vacuum corners and under sinks regularly to eliminate potential hiding spots for spiders.
Take away their food source
The good news is that if you implement the previous prevention tips, there's a good chance the insects spiders eat will not find your bathroom to their liking anymore and move on. That said, if you notice insect activity in your bathroom, be sure to address it immediately.
Do you need help getting rid of spiders in your bathroom or elsewhere in your home?
If you've discovered spiders and other insects in your bathroom, contact Miller Pest & Termite today! Our locally owned and family-operated pest control company offers home pest control services that not only target spiders, but also other insects and rodents that infest Midwest homes. Serving Des Moines, Kansas City, Omaha, and communities throughout the Midwest, homeowners can count on our team of pest control specialists to identify and treat your home's pest problems, no matter what's infesting.
Check out our Miller GuardPlus program below or simply give us a shout to discuss your pest problem!
Ongoing Home Pest & Termite Control Recommendation
Miller

GuardPlus

This program includes everything from the Miller Guard - PLUS termite control and solutions targeting ground squirrels and voles. When you choose this service, Miller will install Sentricon® bait stations around the perimeter of your home to keep wood-destroying termites away.
Service Every Other Month*
33 Pests & Services Covered
Initial Premium Interior Application
Exterior Applications
Insect & Rodent Control
Year-Round Protection
100% Satisfaction Guarantee
Termite Control
Ground Squirrels & Voles
10% Off Bed Bug & Bat Bug Services
Starting at:
$6999A Month
Free Quote Or Call (515) 518-8864
Additional Miller GuardPlus Details
Pests Covered: Asian Beetles, Boxelder Bugs, Carpenter Ants, Carpet Beetles, Centipedes, Earwigs, Fleas, Fruit Flies, Grain Beetles, Hornets, House Ants, Indian Meal Moths, Mice, Millipedes, Pill Bugs, Rats, Roaches**, Silverfish, Spiders***, Stink Bugs, Wasps, Weevils, Yellow Jackets PLUS Termites, Ground Squirrels & Voles
Pricing does not include initial fee
2-year service commitment
Must have credit card on file
*Not including Jan/Feb
**American, German & Oriental
*** Venomous & Non-venomous
Get Help Now!
Request Your Free Quote